Random questions from the 1000 plus get to know you questions in our library.

Here are 25 Random Get to Know You Questions and Conversation Starters:
What was some good advice that you did not follow?

Would you rather be hungry or thirsty?

What goals do you have for your family?

Is it easier to win or lose with grace?

What are two things that you consider yourself to be very good at?

What movie scares you?

What is your favorite way to kill time?

When you have out of town guests what do you show them?

Where do you think the best place to invest money is?

What was the address of the house you grew up in?

Do you believe everything happens for a reason?

Would you take your bosses job if it was offered to you?

What was the fanciest wedding you have ever been to?

What was the last thing that made you feel like an idiot?

What food scares you?

When was the last time you finished something really big?

What music do you and you father have in common?

If you could ask one person one questions and get a completely honest answer who would it be and what would you ask?

What was the first big thing you bought with your own money?

What song was unique to your family growing up?

What was the last thing that you lost and later found?

Have you ever been stung by a bee?

How do you think the American family will change over the next 25 years?

How would you describe your investing strategy?



A new get to know you question every day. Join the conversation on facebook.
Fun get to know you questions for all ages home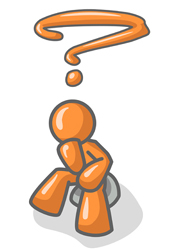 All Questions . . . <<Previous Page -Top Questions- Random Questions -Next Page>>
Page Number -1- -2- -3- -4- -5- -6- -7- -8- -9- -10-
-11- -12- -13- -14- -15- -16- -17- -18- -19- -20-
-21- -22- -23- -24- -25- -26- -27- -28- -29- -30-
Check It Out: Humor : 99 Humorous, amusing and thought provoking questions and ponderables.
If you do it right 51 percent of the time you will end up a hero. - Alfred P Sloan