Random questions from the 1000 plus get to know you questions in our library.

Here are 25 Random Get to Know You Questions and Conversation Starters:
What do you remember about your Grandfather?

What things are you shallow about?

Do you still like to play with your food?

What is the habit you are proudest of breaking?

What goals do you have for your education?

What are you grateful for everyday?

What is your favorite way to spend a night alone?

What would you want your last words to be?

When you where a child, did you ever run away from home?

What in your life have you left up to chance?

What was your favorite childhood toy

Who taught you to ride a bike?

Why did you break-up with your first boyfriend/girlfriend?

What makes you jealous?

Who is a woman from history that you respect?

What makes you feel old?

Who do you talk to on the phone most often?

Do you kiss with your eyes closed?

When have you had a small decision bring big consequences?

If you had an extra room in your house what would you use it for?

When did you realized that you were smarter than your parents?

What was the last lie that somebody told you?

Who is your favorite Super Hero?

When is the last time you worked out?



A new get to know you question every day. Join the conversation on facebook.
Fun get to know you questions for all ages home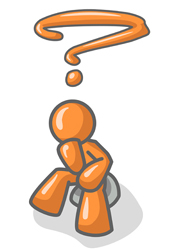 All Questions . . . <<Previous Page -Top Questions- Random Questions -Next Page>>
Page Number -1- -2- -3- -4- -5- -6- -7- -8- -9- -10-
-11- -12- -13- -14- -15- -16- -17- -18- -19- -20-
-21- -22- -23- -24- -25- -26- -27- -28- -29- -30-
Check It Out: Humor : 99 Humorous, amusing and thought provoking questions and ponderables.
No, no, you're not thinking; you're just being logical. - Neils Bohr