Random questions from the 1000 plus get to know you questions in our library.

Here are 25 Random Get to Know You Questions and Conversation Starters:
What makes a good teacher?

Who was the best boss you ever worked for?

What is your favorite curse word?

What can you do to change the world?

Do you believe it is possible for a man and woman to be "just friends"? Why?

What is the biggest snowstorm you can remember?

Would you ever want to live in London?

What food is too much work for you to eat?

What would you do if you had a million dollars?

Are you affected by jetlag?

When was the first time you took responsibility for someone else's mistake?

What piece of technology do you not own but would like to?

How do you prefer to be awakened up in the morning?

What are the perks of your job?

What was the last thing you complained about?

What small business would you like to start?

Where is the scarcest place you have ever traveled to?

Do you believe there are any Ethics left in business?

Have you ever been on tv?

If you could trade lives with somebody you know, who would it be?

What is the scariest crowd you have ever been in?

Is there a child you looks up to you?

When was the first time you finished something really big?

What biblical name do you like?



A new get to know you question every day. Join the conversation on facebook.
Fun get to know you questions for all ages home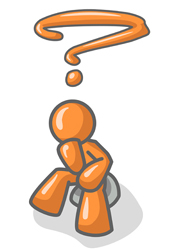 All Questions . . . <<Previous Page -Top Questions- Random Questions -Next Page>>
Page Number -1- -2- -3- -4- -5- -6- -7- -8- -9- -10-
-11- -12- -13- -14- -15- -16- -17- -18- -19- -20-
-21- -22- -23- -24- -25- -26- -27- -28- -29- -30-
Check It Out: Humor : 99 Humorous, amusing and thought provoking questions and ponderables.
Making money is an art and working is an art and good business is the best art. – Andy Warhol