Random questions from the 1000 plus get to know you questions in our library.

Here are 25 Random Get to Know You Questions and Conversation Starters:
What is the most important meal of the day?

What in your life is more important than money?

When was the worst Valentine Day?

What did you do to get pocket money as a child?

When was the worst storm you where ever in?

What makes you laugh?

What do you feel strongly enough about to protest?

When was the last time you went barefoot in public?

Have you ever been in a car accident?

If you could ask one person one questions and get a completely honest answer who would it be and what would you ask?

Where do you like to get your news?

When was the last "back to nature" experience you have had?

What is the strangest food you have ever eaten?

How would you like your family to commemorate your life?

Do you believe God has a sense of humor? Why?

What did you have for Sunday dinner growing up?

How do you think the American family will change over the next 25 years?

Why do they still make black jellybeans?

On a scale of 1 to 10, how happy are you with your life right now?

What would you want your last words to be?

Do you have faith in the next generation? Why?

What is the last thing in your life that went according to plan?

What is your warmest birthday memory?

What is the funniest movie that you have ever seen?



A new get to know you question every day. Join the conversation on facebook.
Fun get to know you questions for all ages home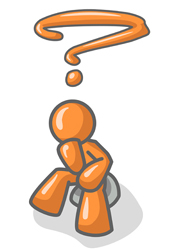 All Questions . . . <<Previous Page -Top Questions- Random Questions -Next Page>>
Page Number -1- -2- -3- -4- -5- -6- -7- -8- -9- -10-
-11- -12- -13- -14- -15- -16- -17- -18- -19- -20-
-21- -22- -23- -24- -25- -26- -27- -28- -29- -30-
Check It Out: Humor : 99 Humorous, amusing and thought provoking questions and ponderables.
I bet a funny thing about driving a car off a cliff is, while you're in midair, you still hit those brakes. - Jack Handey