Random questions from the 1000 plus get to know you questions in our library.

Here are 25 Random Get to Know You Questions and Conversation Starters:
If you could live in any home on a television series, which one would it be?

When have you "stuck it to the man"?

Who is the most dependable person in your life?

If you could live at any time in history when would it be?

What vivid memory do you have skipping school?

What small town would you like to live in?

What is your favorite breakfast food?

If you where in a Rock N' Roll band, what would your job be?

What is the closest you have come to getting caught cheating?

What have you learned about talking to women vs talking to men?

What song typifies the 70's?

What was the best complement you have ever received?

What traditional gender roles do you agree with?

How do you compartmentalize your life?

What was the longest you've ever waited in

How do you think the world will end?

How long can you hold a grudge?

What monsters did you believe lived under the bed when you were little?

What cartoon character do you identify with?

What criteria do you think is most important when picking a College or university?

What strenght comes from suffering?

Do you subscribe to any forms of alternative medicine?

When you your last kiss?

What is your least favorite Holiday?



A new get to know you question every day. Join the conversation on facebook.
Fun get to know you questions for all ages home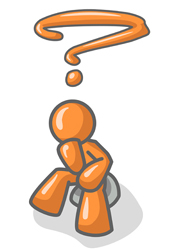 All Questions . . . <<Previous Page -Top Questions- Random Questions -Next Page>>
Page Number -1- -2- -3- -4- -5- -6- -7- -8- -9- -10-
-11- -12- -13- -14- -15- -16- -17- -18- -19- -20-
-21- -22- -23- -24- -25- -26- -27- -28- -29- -30-
Check It Out: Humor : 99 Humorous, amusing and thought provoking questions and ponderables.
There are children playing in the streets who could solve some of my top problems in physics, because they have modes of sensory perception that I lost long ago. - J. Robert Oppenheimer