Random questions from the 1000 plus get to know you questions in our library.

Here are 25 Random Get to Know You Questions and Conversation Starters:
How many phone numbers do you have committed to memory?

What was the most rewarding travel experience that have you had?

In what ways are you a nerd?

What was the best complement you have ever received?

What is the difference between being wealthy and being rich?

What is your favorite gambling game?

What was your first pet?

If you could trade lives with somebody you know, who would it be?

What colors do you like to dress in?

How do you handle rejection?

What was your New Year's resolution this year? How long did it take you to break it?

How long can you hold a grudge?

In what area is your life out of balance?

When you pack for a trip, do you pack light or heavy?

How do you manage stress?

Have you ever been mentioned in the newspaper?

What was the last thing that made you feel like an idiot?

What motivates you to exercise?

What vivid memories do you have of spent time with your grandparents?

When did you realized that Santa Clause was not real?

What makes you lose hope for humanity?

What cause are you willing to fight for?

What meal was your mothers best?

What gives you hope for humanity?



A new get to know you question every day. Join the conversation on facebook.
Fun get to know you questions for all ages home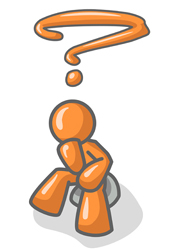 All Questions . . . <<Previous Page -Top Questions- Random Questions -Next Page>>
Page Number -1- -2- -3- -4- -5- -6- -7- -8- -9- -10-
-11- -12- -13- -14- -15- -16- -17- -18- -19- -20-
-21- -22- -23- -24- -25- -26- -27- -28- -29- -30-
Check It Out: Humor : 99 Humorous, amusing and thought provoking questions and ponderables.
I bet a funny thing about driving a car off a cliff is, while you're in midair, you still hit those brakes. - Jack Handey