Random questions from the 1000 plus get to know you questions in our library.

Here are 25 Random Get to Know You Questions and Conversation Starters:
Do you subscribe to any forms of alternative medicine?

What chore did you used to hate but now enjoy?

What makes you lose your inhibitions?

What is the most disgusting thing you have ever eaten?

How important is it to you that you are on time?

If you could ask one person one questions and get a completely honest answer who would it be and what would you ask?

What personality traits do you look for in a partner?

What animal makes you smile?

If you where in a Rock N' Roll band, what would your job be?

When was the first time you realized you are good at your job?

What three adjectives best describe you?

Have you ever been in a food fight?

What changes do you find hard the accept?

What is the best costume you have worn?

What traditional gender roles do you disagree with?

If you could be a professional athlete what sport would you play?

If you could live at any time in history when would it be?

What does lifelong learning mean to you?

What do you miss from your childhood?

What was the most rewarding travel experience that have you had?

What was the last charity you donated time, money or materials to?

How do you like to spend your spare time?

What would you do if you were invisible for a day?

If you could be any age how old would you be?



A new get to know you question every day. Join the conversation on facebook.
Fun get to know you questions for all ages home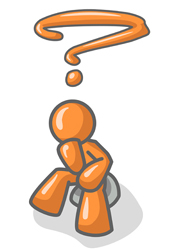 All Questions . . . <<Previous Page -Top Questions- Random Questions -Next Page>>
Page Number -1- -2- -3- -4- -5- -6- -7- -8- -9- -10-
-11- -12- -13- -14- -15- -16- -17- -18- -19- -20-
-21- -22- -23- -24- -25- -26- -27- -28- -29- -30-
Check It Out: Humor : 99 Humorous, amusing and thought provoking questions and ponderables.
Self sufficiency, we call that poverty these days - Matt Ridley