Random questions from the 1000 plus get to know you questions in our library.

Here are 25 Random Get to Know You Questions and Conversation Starters:
Why do we expect changes in our self but find it hard to accept changes in others?

What is the worst break-up you have had?

What children's TV Show is the hardest to watch?

What would you buy from a thrift store?

How you are feeling today and phrase it in the in the form of a weather report. (For example, partly cloudy, sunny with a chance for showers, etc.)

What do you do when you cannot sleep?

How do you express love?

What movie can you watch over and over again?

If you where an artist what medium would you work in?

What do you do to impress someone you are attracted to?

What changes do you find hard the accept?

What is the saddest movie?

What was something that you could find 10 years ago but cannot find now?

What goes through your mind when your boss asks to talk to you privately?

Have you ever been in a car accident?

What is there too much of in your life?

What makes you feel old?

Is it easier to give help or receive help?

What is your ringtone?

What small business would you like to start?

What is your favorite quote?

If the money was the same what job at your current company/employer would you want?

What do you "know now" that you wish you "knew then"?

When have you seen Karma at work in your life?



A new get to know you question every day. Join the conversation on facebook.
Fun get to know you questions for all ages home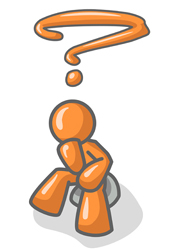 All Questions . . . <<Previous Page -Top Questions- Random Questions -Next Page>>
Page Number -1- -2- -3- -4- -5- -6- -7- -8- -9- -10-
-11- -12- -13- -14- -15- -16- -17- -18- -19- -20-
-21- -22- -23- -24- -25- -26- -27- -28- -29- -30-
Check It Out: Humor : 99 Humorous, amusing and thought provoking questions and ponderables.
I never vote for anybody, I always vote against. - W. C. Fields