Random questions from the 1000 plus get to know you questions in our library.

Here are 25 Random Get to Know You Questions and Conversation Starters:
Where is the highest you have been and not in an airplane?

What is your best personality trait?

What are you always late for?

If it is after midnight and you do not want to go home yet, where do you go?

What would you want your last words to be?

Which one of your character flaws would you like to improve?

When was the last "back to nature" experience you have had?

What is the funniest thing you have heard a child say?

What food is the most fun to eat?

Where is the funniest place you have ever fallen asleep.

What cartoon did you watch growing up?

If you could have a drink with someone from history who would it be?

Do you believe there are any Ethics left in business?

Do you have any goals that were imposed upon you?

What is your favorite dessert?

What is a small luxury that you treat yourself to?

What movie provided you with a new perspective?

Would you double you commute if it meant you could double the square footage of your home?

What is your favorite childhood picture of yourself?

What are you grateful for everyday?

What monthly bill do you think is the best value for the money?

What is there about money that you do not understand but would like to?

What song makes is the best song for a road trip?

What is the closest you have been to a lighting strike?



A new get to know you question every day. Join the conversation on facebook.
Fun get to know you questions for all ages home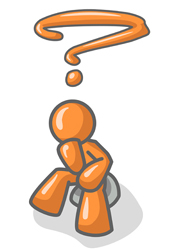 All Questions . . . <<Previous Page -Top Questions- Random Questions -Next Page>>
Page Number -1- -2- -3- -4- -5- -6- -7- -8- -9- -10-
-11- -12- -13- -14- -15- -16- -17- -18- -19- -20-
-21- -22- -23- -24- -25- -26- -27- -28- -29- -30-
Check It Out: Humor : 99 Humorous, amusing and thought provoking questions and ponderables.
If you ever catch on fire, try to avoid seeing yourself in the mirror, because I bet that's what really throws you into a panic. - Jack Handey