Random questions from more than 500 Life Lessons questions.
Top Questions- Reload Random Questions
The Life Lessons Questions are a different set of questions than the Get To Know You questions. There is some significant overlap between the questions. Some of these questiosn will be less meaningful taken out of context. Here are some random questions taken from the Life Lessons set.
Here are 20 Random Life Lesson Questions :
If you could be any age what age would you choose?

What is the meanest thing you have done on a date?

If you could live in any other country for two years where would you go?

Why where you given your name?

What was some good advice that your father gave you?

What restaurant do you love even though you know you shouldn't?

Would you rather eat one and a half pounds of icecream in under 60 seconds or run 5 miles?

Is there another word for synonym?

Would you rather attend Hogwarts or have a pet sasquatch?

If there were no sponges living in the oceans, would the oceans be deeper?

What is the first thing you think about when you wake up in the morning?

Did Noah have woodpeckers and termites on the ark?

What memories do you have of your grandfather?

If you could choose anyone, who would you pick as your mentor?

What hobbies are too risky?

What sport do you most like to watch?

Would you rather lose your sight or lose your hearing?

Who do you turn to for advice?

Which one of your character flaws would you like to improve?

What would the ideal teacher be like?


Fun get to know you questions for all ages home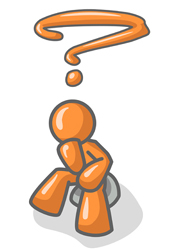 <<Previous Page -Top Questions- Random Questions- -Reload This Page




Check It Out: Humor : 99 Humorous, amusing and thought provoking questions and ponderables.

Far and away the best prize that life offers is the chance to work hard at work worth doing. - Theodore Roosevelt