Random questions from more than 500 Life Lessons questions.
Top Questions- Reload Random Questions
The Life Lessons Questions are a different set of questions than the Get To Know You questions. There is some significant overlap between the questions. Some of these questiosn will be less meaningful taken out of context. Here are some random questions taken from the Life Lessons set.
Here are 20 Random Life Lesson Questions :
What are your current expenses?

Who do you try to impress?

If you could only have one would you rather have clean socks or clean underwear?

What laws and regulations effect the company and are they like to change?

Would you rather find a parking space and discover that the parking meter has plenty of time left on it or have someone genuinely laugh at one of your jokes?

f you could bring one thing from the 1950's to the present day what would it be?

Why do we scrub Down and wash Up?

Would you rather have many casual friends or one very close one?

If you had a ton of money how would it corrupt you?

How do you let the other person know when the ground rules change?

What was the first thing you learned to cook?

What have you learned from mistakes on the job?

What grown-up job do you want?

When have you had a run in with the law?

What was the most romantic gift you have given?

Who was your first crush with?

Would you rather have $50,000 free and clear or $150,000 that is illegal?

How will your home decorated?

In what way are your parents out of date?

Which one of your friend lives the furthest away?


Fun get to know you questions for all ages home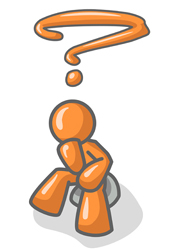 <<Previous Page -Top Questions- Random Questions- -Reload This Page




Check It Out: Humor : 99 Humorous, amusing and thought provoking questions and ponderables.

I have never known such a thing as a bad hair day. - Albert Einstein