Random questions from the 1000 plus get to know you questions in our library.

Here are 25 Random Get to Know You Questions and Conversation Starters:
Did you have an imaginary friend as a child?

If you were to attend a costume party tonight, what or whom would you go as?

What meal was your mothers best?

What do you never what to hear you mother say?

What do you hate the sound of?

What is your favorite way to get exercise?

If you had access to a life coach what would you want to work on?

What was some good advice that your father gave you?

Who is the best living guitar player?

What is the most dramatic view you have seen?

What do your actions today say about your priorities ?

When was your best Valentine Day?

if you could live in any other country for 2 years where would you go?

What is your favorite breakfast food?

What is the most valuable thing in your life?

What makes you stubborn?

What is the worst flavor of ice cream?

What was the longest you've ever waited in

Would you sell one of you kidneys for $75,000?

What girls name do you dislike?

What do you have that is of great value to you but of no value to anyone else?

In what way are you superstitious?

What is your favorite song from a Broadway musical?

What is one thing you are sure about?



A new get to know you question every day. Join the conversation on facebook.
Fun get to know you questions for all ages home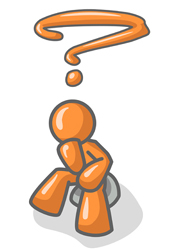 All Questions . . . <<Previous Page -Top Questions- Random Questions -Next Page>>
Page Number -1- -2- -3- -4- -5- -6- -7- -8- -9- -10-
-11- -12- -13- -14- -15- -16- -17- -18- -19- -20-
-21- -22- -23- -24- -25- -26- -27- -28- -29- -30-
Check It Out: Humor : 99 Humorous, amusing and thought provoking questions and ponderables.
A man only learns in two ways, one by reading, and the other by association with smarter people. - Will Rogers